BACK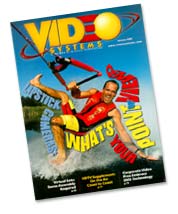 Video Systems Magazine

JANUARY, 1999 - REVIEWER: FRANK MACMAHON

Going (Back) to Film School, Interactively

It's easy for video directors to think they know a lot about "filmmaking" and telling a story. While many of us are technically proficient with all of the latest video equipment, there needs to be a solid background in camera movement, story line, pacing, film grammar, script-writing, and pre-production. For some, the How To Make Your Movie CD-ROM set could be a humbling experience, bringing up techniques you may have never thought of before. Going through this interactive film school could do wonders for your video career.

The program comes on three CD's, and although the Web certainly has a hand in the phasing out of information CD's, this program certainly is a design showcase for the CD format, with great graphics, crisp video, cool animation, and smooth navigation. The concept is a New York City filmmaking school that has closed for the summer. However, you pass a lethargic security guard, and you, essentially, then have free rein to the entire four-floor facility. As you roam from room to room and floor to floor, you discover all kinds of information and tutorials on producing, writing, directing, and editing. Each room covers different parts of the total filmmaking course. You can choose to go in order or skip around (the security guard flips you a floor plan, and you can click on any room to go directly to it). All the graphics are real (not 3D-generated) so wandering around and hearing the constant sounds of the NYC streets outside adds a great sense of realism.

Your course begins with film grammar, the composition of the scene. Different types of shots, angles, lenses camera movements, positions, coverage, reverse angle, the triangle principal, framing, and punctuation are covered. Some of this was old hat for me, but many segments taught me new tricks and most reinforced what I already knew and should be doing. The rooms are a combination of all types of multimedia examples, from clickable text pages to animated exercises to video examples. For example, there is one section in film grammar on doing match cuts. Here, the program gives you two video clips, and you insert edit them together with the mouse to experiment with the timing. You can then reset the edit and re-edit again, until you get the piece just right. The clips are from the movie Pasta Paolo (which the entire program covers the making of), and you get to view the film in its entirety at the end of the course in the screening room, which is on the fourth floor. One nice bonus is that one of the CD's comes with the complete raw footage and sound effects for the Pasta Paolo movie in QuickTime format, so you can edit your own version in most any movie program, such as Adobe Premiere or Avid system.

After film grammar there is a great section on film festivals, with extensive resources of film and video festivals worldwide. Next is equipment, which covers all different types of video and film equipment, from cameras to mics to everything in between. One large section is devoted to scriptwriting, and every element is given a once over, from treatments to formatting to page layouts. Additional sections cover pre-production, actors, set design, costumes, make-up, storyboards, shotlist, scheduling, budgeting, blocking, shooting, editing, sound, titles, and much more. Along the way, most of the information can be printable forms, such as survey checklists, script breakdown, location release, talent contracts, call sheets, and others you should be using.

The program is filled with little touches, and every time you walk down the hall and enter a room there is a new area of interesting information to explore. There are many multimedia tutorials, such as compositing exercise where you drag around a still frame to crop you shot; the film trivia quiz in the film school's bathroom; the interactive lighting demo where you click lights off and on to light a scene; and the scriptwriting computer you boot up to access a great section on proper formatting. There are also many fascinating essays throughout the school that I found very enlightening. For example "Dense Clarity, Clear Density," by Walter Murch parallels audio mixing to colors in a light spectrum and explains how to add different colors of audio to create discrete, distinctive mixes. I know this will directly affect my next audio mix during an edit session.

There was little I did not like about this program; however, I could have done without the commercial element. Companies such as Kodak and Sony featured in various sections and although they always relate to the content at hand, I thought the addition was distracting. There are also many sections that highlight various filmmaking schools. These sections have nice multimedia effects and offer much info on the schools; but I rather would have seen that space on the CD devoted to extra learning material. Also the save function did not work correctly, I kept saving and then going back later to load in my position only to received an error message. However, since the program saves your position in a simple text file, it is easy enough to fix the file and make it usable again. The movie, Pasta Paolo, which is explored and dissected extensively in the program, is really not that great. Performances are fine but the eight-minute epic left me wanting more. Of course, it's all a learning experience, as several points in the course center on the film's shortcomings, learning from the mistakes. By the way, the "film was actually shot on video (Beta SP with a Steadicam), so this interactive film school is essentially centered on a video production. Lastly, I wanted a better ending to the CD. I plowed through the entire course and in the end I got a printable diploma and a bottle of champagne. Not that I wanted a celebration or graduation party, but something a little more grand than an empty room with a certificate.

So the big question , is this CD for you? I consider myself a professional director and I already knew many of the techniques and theories included. But what I didn't know was fascinating. I came away with a new appreciation for the process and I can directly apply all of the information I learned to every future video production, from a 30-second clip to a full-length piece. It is also great training material. Slap this in the hands of the next production assistant you hire. In a week they'll come back much more well informed on this craft and a better asset for you. In fact, there is a course syllabus and one-year class out-line included, if you wish to use this program as a teaching tool.

I highly recommend this CD set, and after constantly buying new equipment and cutting-edge software, this is the first package I've received in a long time that will actually make me a better director.


Awards




New York Festivals




Grand Award, Best of Show




New York Festivals:
Two Gold World Medals



New Media Magazine
InVision Award


CD-ROM Of The Year
PC-Chip Magazine


The Chris Award
Bronze, Education
The Cindy Award
Multimedia Competition
InCredible Award
Computer Credible Magazine